01.07.2022
Summer school-2022

On June 27-29, 2022, a «Summer school» was held at the Kazakh National Pedagogical University named after Abai.

The purpose of the summer school is to develop professional skills and competencies to improve the effectiveness of academic policy and research.

On June 28, the session was opened by the Director of the Department of Design of Educational Programs, Candidate of Economics, Baidildina A.M. with the theme «Student-centered learning».

Head of the Department of Informatics and Informatization of Education, Ph.D., Associate Professor N.T. Oshanova analyzed advanced STEM technologies, emphasized their value and significance, Chairman of the Academic Committee of the Institute of Natural Sciences and Geography, Ph.D., Associate Professor Sh.Sh. Karbaeva noted global trends in modern education, the competence of the educational model in the process of preparing a future teacher, senior the teacher of the Department of History of Kazakhstan named after T. S. Sadykov, Ph.D. Nurman Sh.T. shared their experience on the topic «Pedagogical education based on research».

The issues discussed during the Summer School session on June 29 aroused great interest of the scientific audience, in particular: Ph.D., Associate Professor Hamraev Sh. I. «Digitalization in education and development of digital competence of teachers»; Ph.D., Rabilova Z.Zh. «Design on the principle of constructive agreement»; PhD, senior lecturer, Nurbayeva D.M. «Subject-language integrated learning (CLIL)»; Master, senior lecturer N.Tulegenovuly «Professional development of teachers and change management»; Master`s degree, senior lecturer E.A.Zhalmagambetov «Interdisciplinary training».

The summer school session, held in a hybrid format, was attended by directors of institutes and deputy directors of institutes, heads of departments, teaching staff.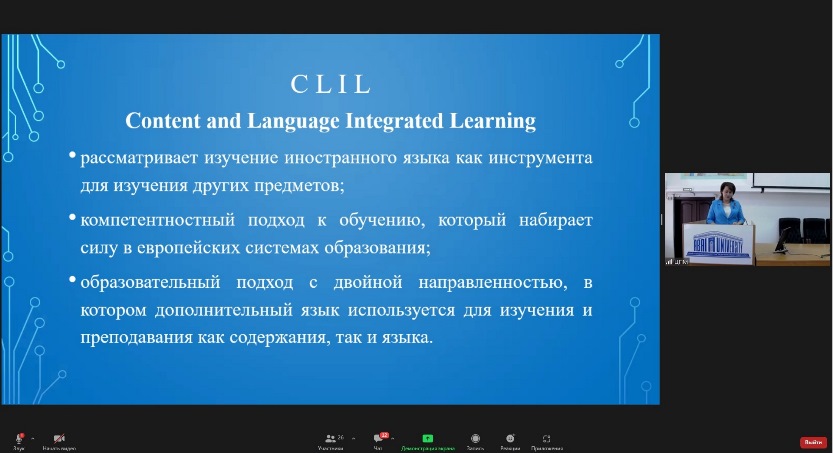 2