15.07.2020
Instruction to apply for the service: «Awarding educational grants as well as social support for students in higher education organizations»
1) Go to e-government site www.egov.kz
2) Sign in
3) Go to the section«Education»
4) Select the tab «Higher education», service «Awarding educational grants as well as social support to students in higher education organizations».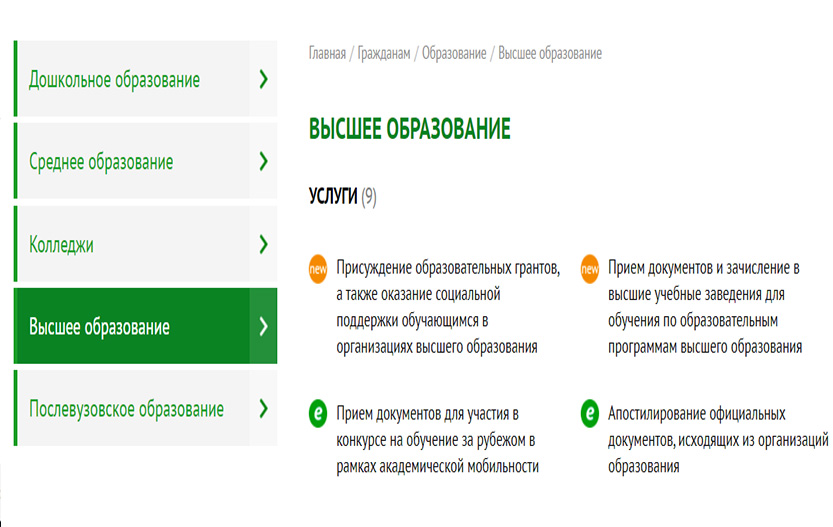 5) Read the information about the service and click «Order the service online»
6) A page for completing the application will open, where all mandatory fields must be filled in.
7) The application may be submitted by the parent, legal representative or Applicant/Student.
8) When filling in the «Applicant`s category» field, a parent or legal representative will be able to enter the child`s IIN. It is necessary to fill in the IIN. For the IIN from the state database of the DB IS RACS will be filled in the data.
If, by the entered IIN, records of the civil status act on the birth of a child are not found in the DB IS RACS, it will be necessary to attach an electronic copy of the birth certificate
9) When filling in the field «Applicant Category» from the applicant will be available field button for «Next»
10) It is necessary to select from the list to fill in the information about education
11) When selecting a checkbox, a field will open for filling in the data and, if necessary, attaching scanned documents.
1) After filling in the data you should press the «Next» button.
2) After filling in all mandatory fields, it is necessary to sign the application electronically.
If you are having trouble filing an electronic application, try the following:
- Clean the cache;
- Re-authorize and select the service;
- Check if NCALayer is running (you can download at pki.gov.kz).

591