13.05.2022
Representatives of Nazarbayev University conducted training on the development of academic programs

On May 12-13, 2022, at Abai Kazakh National Pedagogical University, representatives of the Nazarbayev University Institutional Effectiveness Office conducted training for employees of Abai University, KazNWTTU and Zhubanov University on the topic «Development of academic programs. Some aspects» as part of the broadcast of the experience of your university. The teaching staff and doctoral students of our university took part in the classes.

The program is developed taking into account advanced international approaches and principles of design of educational programs. The speakers were General Director of Institutional Effectiveness - Duncan Priestley, General manager for Institutional Effectiveness - Aizhan Musina, Coordinator for academic quality Aliya Suleimenova, Manager for training and teaching, Accreditation of educational programs - Elmira Tabyldiyeva.

The participants of the event got acquainted with the concepts and approaches to the development of academic programs; internationalization and international benchmarking; the procedure for constructive coordination, development of learning goals and results, assessment of learning achievements. Issues of quality of education, development of academic programs, institutional efficiency and others were also discussed.

We thank our colleagues from Nazarbayev University for their support and assistance in the development of education for the benefit of common strategic goals.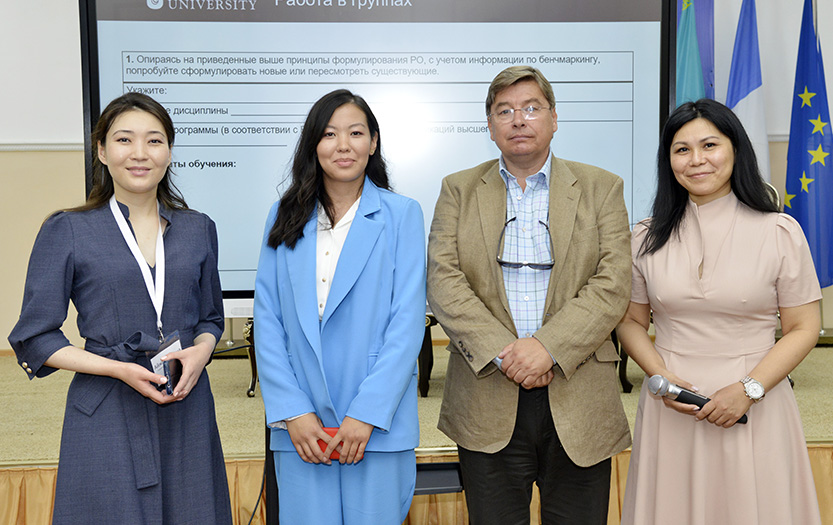 35