Main
/
Science
/
Scientific and Innovation Park «Abai LABS»
/
Comprehensive Educational and Research Laboratory in Chemistry and Biology
The Integrated Training and Research Laboratory (IRTL) was created in 2018 by the decision of the Academic Council of Abai KazNPU (Protocol No. 2 dated 10.24.2018).

In the period from November 2018 to April 2019, a substantial work was done to launch the activities of the IRTL:
- stocktaking of fixed assets and small equipment;
- formalization of governing documents for IRTL activities: Regulations of the integrated educational research laboratory of the Institute of Natural Sciences and Geography (in Kazakh and Russian languages); job description of the head of IRTL (in Kazakh and Russian languages); job description of the IRTL engineer (in Kazakh and Russian languages).
- organizing devices, reagents, utensils, etc.
IRTL is equipped with 108 units of primary equipment and 188 units of auxiliary tools including chromatographic tables for spectral studies, movable and stationary tables, an island electrified table, physical electrified tables, various cabinets and lockers for laboratory chemical glassware and reagents.
The laboratory also has:
- Fume Hood ShVL-01
- Laminary Box BAVp-01
- primary equipment for microbiological and immunological research - 2 flask mantle heaters LOIP LH-250 and ПЭ-410, 2 electric heaters, distiller АЭ-10МО, 2 bactericidal irradiators, plate reader Multiscan Ascent (Finland) with software and reagents, "Leica" Trinocular microscope with digital- and photo-cameras, 2 MICMED-1 monocular microscopes with a built-in light source which are supplied with coverslips and microscope slides, immersion oil and much more, dry heat cabinet SNOL-24, thermostat ВО-28; IRTL is also equipped with pipettes of various volumes, conical and round-bottom flasks of various volumes, cylinders, desiccators, glasses and other kinds of ware for microbiological research.
- primary equipment for spectral research - 3 spectral instruments: fluorimeter, digital spectrophotometer PD-303, photometer КFК-3-01.
- primary equipment for mixing and separation of solutions - MiniSpin and СМ-6М centrifuges, including tubes of various volumes; Magnetic stirrer MS01, Shaker OS-20 and other.
-primary equipment for soil research - laboratory sieve, single diameter (3 pcs); soil drill, AM-7 (1 pc.); set of sieves KP-131 for soils (14 pcs.); laboratory mill A10 (1 pc.); optical magnifier LPI-464 (1 pc.) and other.
- chemical glassware in 3 ware lockers: dark glass Strashane dropper from the with a pipette (2); Conical flasks of various volumes (30); Round-bottom flasks of various volumes (100); Volumetric flask 100 ml (10); Flat-bottomed flask of various volumes (29); Porcelain mug with a handle and a nose (1); Porcelain spoon (1); Glass spatula (7); Beakers of various volumes (30); Mortars and Pestles (3); Measuring pipettes of various volumes (150); Test tubes with a screw cap of various volumes (100); Chemical test tubes of various volumes (500); Polymer tubes with screw caps of various volumes (150); Flat-bottom washer LDPE (1); Flasks for colorless reagents and amber glasses with ground stopper (12); Laboratory alcohol SL-2 (3); Glasses of various volumes and heights (90); Glass for weighing (12); Cover glass for micro preparations (500); Goryaev`s camera (1); Glass coverslip to the Goryaev`s camera (200); Slide glass (250); Crucible (4); Universal indicator paper (pH 0-12) (20); Various dehydrated filters (10); Cylinders of various sizes (33); Evaporation bowls of various volumes (6); Petri dish (350); Tripod for test tubes (25); Desiccator (3). Other devices: 1-channel microdoser Capp Ecopipette (3); tips for dispensers.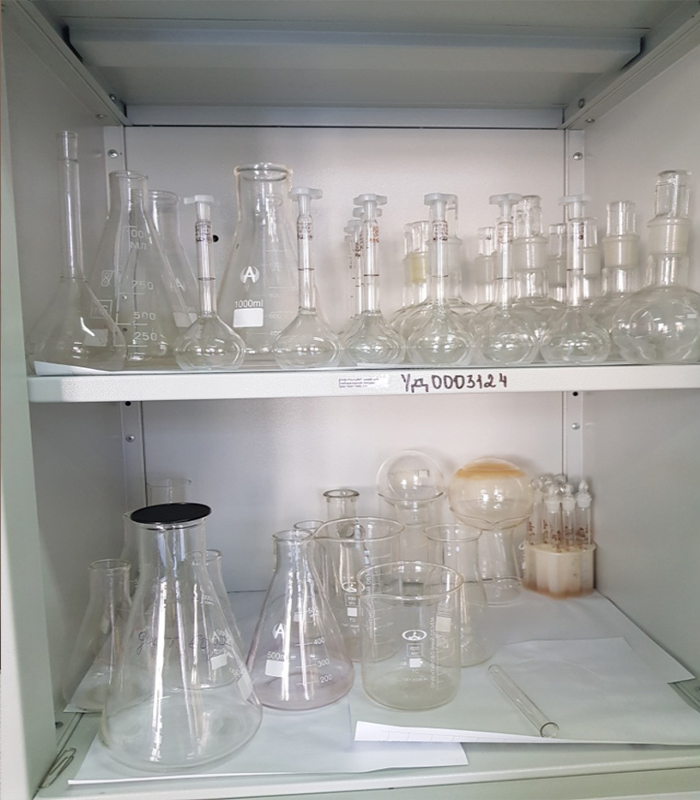 - reagents are stored in special lockers with ventilation: inorganic - magnesium salts, manganese salts, copper salts, sodium salts, lead salts, zinc salts, etc.; organic - urea, nutrient agar, Griss reagent, Nessler reagent, sucrose, etc.; dyes - gentian violet, fuchsin basic, eosin methylene blue, etc.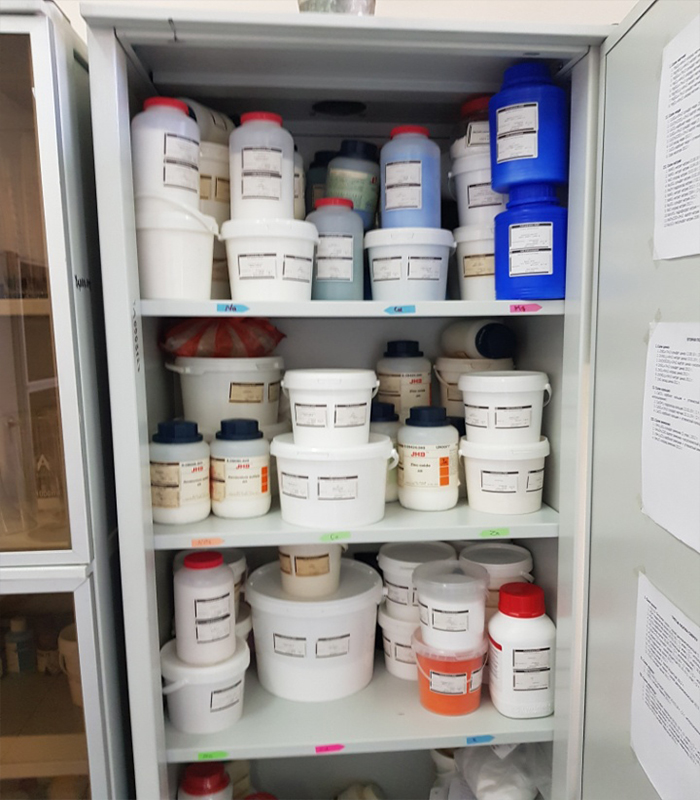 - other auxiliary equipment of IRTL: laboratory electronic and technical scales AR-1530, sound level meter-spectrum analyser, kit for determining the total hardness of water, Ion meter/pH meter, three-channel conductivity meter, 2-chamber refrigerator, KS-200 air-conditioning system with fixed parameters for cultivation, analyzer of the content of petroleum products in water AN-2 (equipment No. 1 and 2).
- library fund (reference books, workshops and other scientific literature) in 3 lockers in the amount of 126 units of scientific biological literature, scientific and methodological, biotechnological and environmental.

250