18.03.2023
Dear professors, teachers, doctoral students, undergraduates!

On March 20, 2023 at 15.00. the Department of General and Applied Psychology of the Institute of Pedagogy and Psychology holds an International scientific online seminar «Psychological aspects of suicidal behavior».

The purpose of the event is to discuss modern methods for identifying signs of suicidality and prevention of suicidal behavior, psychological ways of their correlation.

Moderator - Gulmira Bekenovna Nietbaeva, PhD, Associate Professor of Abai KazNPU.

Speakers of the online seminar:
1.Negri Varvara Aleksandrovna - Psychologist-coach of Lomonosov Moscow State University (Russia).
2.Salieva Dilorom Abdullayevna - Candidate of Psychological Sciences, Kokand State Pedagogical Institute (Uzbekistan).
3. Perlenbetov Mukhan Atenovich - Doctor of Psychological Sciences, Professor, Vice-rector of the Academy «Kainar», President of the NGO «Kazakh Psychological Society».
4. Klyukina Natalia Mikhylovna - accredited special psychotherapist, member of the International Scientific Council on Psychotherapy.
5.Akazhanova Alma Taurbekovna - Doctor of Psychological Sciences, acting professor of KazNPU named after Abai.
6.Karakulova Zaure Shapaevna - Candidate of Psychological Sciences, Associate Professor of the Caspian University.
7.Begalieva Nurgul Useinkyzy - Candidate of Psychological Sciences, senior lecturer at Abai KazNPU.
8.Myrzayeva Zhansaya Amangeldievna - Master`s student of KazNPU named after Abai.

The program of the online seminar includes discussion of reports, questions and answers, constructive suggestions.

The international scientific seminar is held in an online format.

Online connection via Zoom

Conference ID: 388 434 7781

Access code: 1206
Time: 03/20/2023, 15:00. Astana, (Dhaka).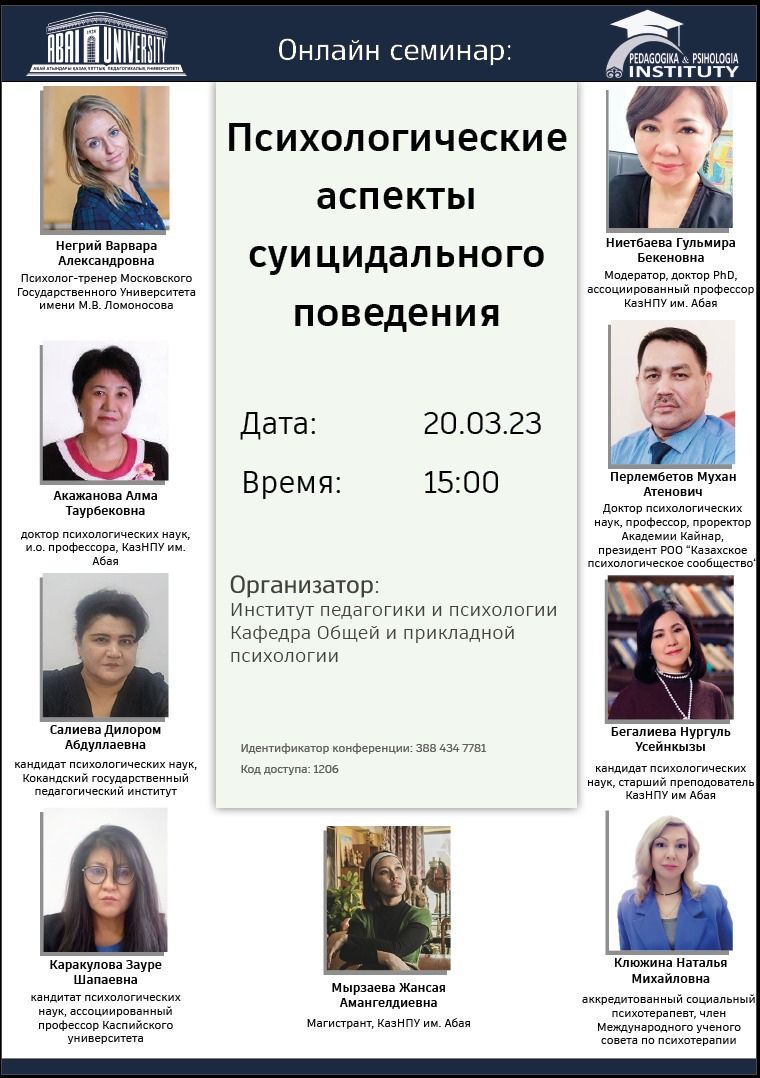 60