Main
/
Institutes
/
Institute of Natural Sciences and Geography
/
Research and methodological centre for geography and ecology
Scientific and Methodological Center for Geography and Ecology

The Scientific and Methodological Center for Geography and Ecology at the Institute of Natural Science and Geography, is a structural subdivision of the Institute, created by transformation, on the basis of the order of the Ministry of Education and Science of the Republic of Kazakhstan.

The activities of the "Center" are aimed at the development and widespread use of the latest achievements of science and technology in the educational process of higher and secondary education, etc .:
1. Development and implementation in the field of education of the results of advanced scientific research Participation in personnel training. Working with talented youth.
2. The Center, as a structural subdivision of the Institute of Natural History and Geography, is called upon to fulfill educational, methodological, research tasks of secondary schools and colleges of the republic.
3. Development of scientific and methodological foundations for teaching interdisciplinary relations and environmental education in the system of pedagogical universities of the Republic;
4. Training of scientific and pedagogical personnel in natural science, as well as in geography and ecology for pedagogical institutes and universities of Kazakhstan from among trainees, undergraduates and doctoral students studying daily at the departments of the university;
5. Introduction of the latest achievements in ecological geography and protection of natural resources into school teaching practice, as well as providing schools with appropriate practical assistance;
6. Using aerospace imagery to create natural landscapes reflecting the dynamics and the role of anthropogenic factors in these changes;
- Carrying out scientific research, including on orders and contracts with interested ministries, state committees, departments, development of recommendations and measures for environmental safety with the aim of rational use of natural resources in different geographic zones;
- To develop educational and methodological recommendations for electronic textbooks, for boarding schools and technical means in the learning process, as well as a scientific and methodological center should have links with international organizations such as SOROS, UNEP, etc. and use and implement their best practices;
- To prepare and recommend future specialists for scientific, pedagogical and industrial work in solving environmental problems of Kazakhstan.
7. Conduct lectures and laboratory-practical classes with students, including their individual self-training, organizes educational field practices, prepares teaching aids and recommendations for teaching methods on environmental geography and nature conservation;
8. Conduct seminars for teachers of geography and bioecology on environmental education of schoolchildren, give lectures at regional institutes for the improvement of teachers, organize practical environmental and nature conservation work in basic schools;
9. Organizes scientific seminars, conference symposia, publishes methodological and scientific works, conducts widespread popularization of environmental education using affordable means, including the creation of a nature conservation museum;
10. Organizes scientific expeditions and stations to carry out research, implements the results of developments in the prescribed manner and renders other assistance to interested environmental authorities;
11. Systematically analyzes and summarizes the experience of environmental research abroad, the CIS and Kazakhstan.


ECOLOGICAL LABORATORY (room 614)
Auditorium 614 in the Scientific and Methodological Center "Ecology and Geography" was put into operation in 2010. The auditorium is located in the Abai Kaz NPU, at the Institute of Natural History and Geography on the 6th floor. Premises area - 35.8 sq.m.
Wall decoration - gesso finish.
The ceiling is whitewashed.
The floor is tiled.
Equipment in the classroom:
Water distiller, 2014
Analyzer of oil products in water AN-2
Analytical balance, 2014
Laboratory balance, 2014
Laboratory balance, 2014
Fume hood 900 * 650 * 1900, 2014
Dosimeter radiometer, 2014
Radioactivity indicator, 14 g.
Sets of consumable express means for "ELIOS-01", 12
LAB-Pro TOMDD 110.12 g.
LAB-Pro-VI 150-TR
LAB-Pro-CO in 120-F20 high, 12 g.
LAB-Pro-SE120-K11 electrified, 12 g.
LAB-Pro-TPD-40-65, 12 g.
LAB-Pro-SHMD, 12g.
LAB-Pro-SHMO, 12g.
Light meter, 2014
Magnetic stirrer without heating, 250 ml, 2014
Small Gas Analyzer, 2014
Small-sized gas analyzer, 2014
Binocular microscope, 2014
Heating tiles, 2014
Spectrophotometer SF-56
Sink table, double with a rack for drying dishes, 2014
Laboratory stools Pro GR 730 GBKR GS, 12g.
Universal portable express laboratory "ELIOS-01", 12g.
Cabinet for papers, reagents, 2014
Sound level meter-spectrum analyzer, 2014
Desiccator with porcelain insert without tap
Refrigerator, type HPT 14 g. C 9000 15 g.
Arrangement of desktops - teacher`s table in the center, other desktops in a circle from the teacher`s table.
Wet cleaning - daily.
Optional equipment-
Germicidal lamp
Cabinet 2
Cabinet 3
Burette with tap 1-1-2-25-0.1
Burette with tap 1-1-2-50-0.1
Tray for staining glass slides
Dropper with pipette 2-25 ml
Dropper with pipette 2-50
Funnel chemical B-36 * 50
Funnel chemical B-150 * 230
Pipette 3-1-2-1 ml for full drain
Piet 3-1-2-2 ml for full drain
Pipette 3-2-2-10 ml for full drain
Beaker for 100 ml
Conical flask KN-3-750-34 with a scale
Conical flask KN-3-250-34 with scale
Conical flask KN-3-500-34 with a scale
250 ml beaker
50 ml beaker
Goryaev`s chamber 2-chamber
Glass stick, 22 cm
Laboratory spirit lamp SL-2
Chemical test tube PKh-2-14-120 (1 box = 500 pcs)
Test tube with screw cap 16 * 100 mm
Test tube with screw cap 16 * 100 mm
Weighing cup, high
Weighing cup, low
High glass with a scale V-100
High glass with a scale В-250
High glass with a scale V-50
Low glass with scale
Cover glass 18 * 18
Object glass 1
Laboratory chairs and stools
measuring cylinder with a nose on a plastic base 3-100-2
measuring cylinder with spout on plastic axle 3-25-2
measuring cylinder with nozzle on a plastic base 3-250-2
measuring cylinder with a spout on a glass base 3-100-2
measuring target with a spout on a glass base 3-500-2
Petri dish, 150 mm sterile
Petri dish, 100 * 200 mm sterile
Volumetric flask with plastic stopper 2A-200-3
Movable curbstone 3 drawers
Funnel chemical B-100 * 150
Pipette 3-1-2-5 ml for full drain.
Microclimate:
Heating is central.
Ventilation is natural.
Condensing - yes.
Air temperature - 20-220C.
Humidity - 55-62%.
Airing - before classes, in the morning.
Lighting:
The orientation of the windows is south.
The presence of sun protection devices - blinds.
Artificial lighting is general.
Luminaire type - fluorescent lamps.
Power -36 W.
The level of artificial illumination at the workplace is at least 300 days.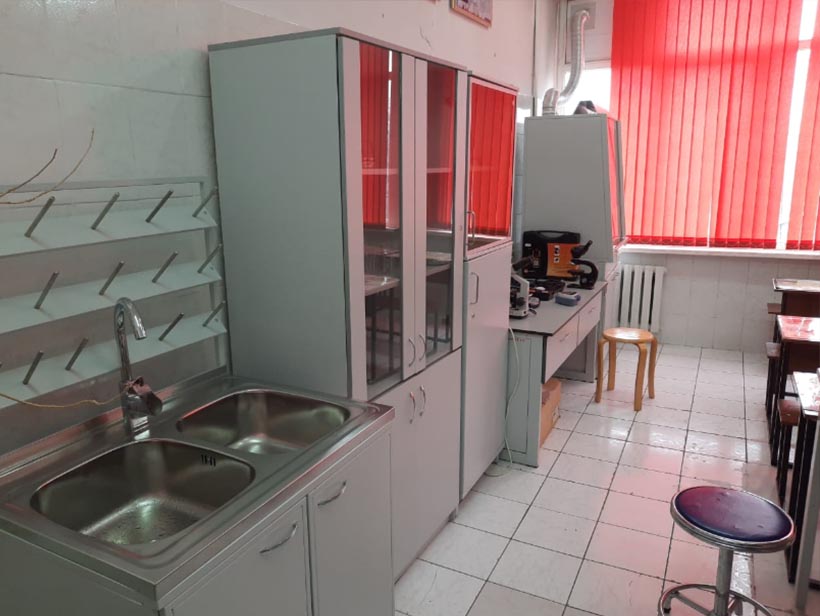 562